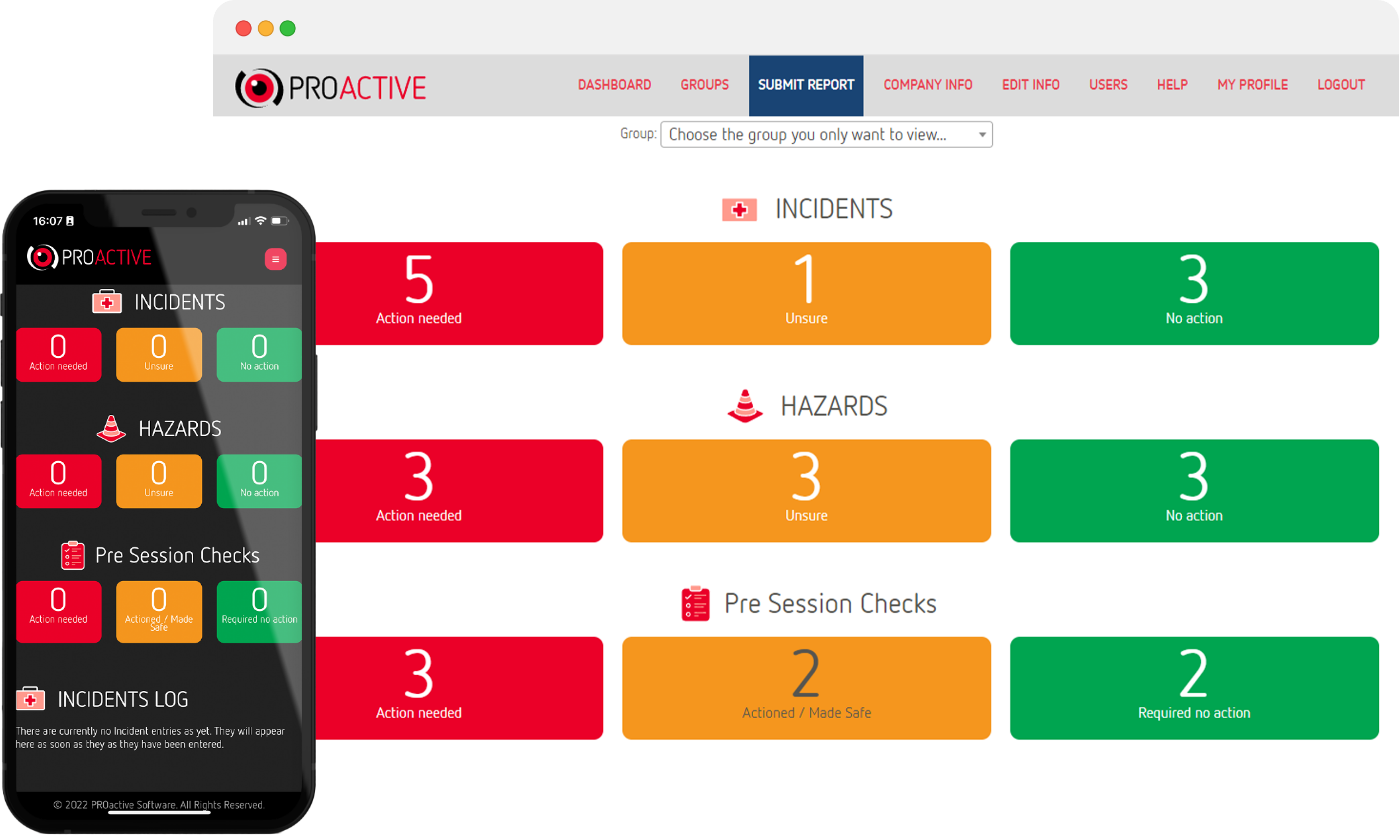 The easy to use web-based app provides an effective reporting system for staff, backed up by a simple to follow dashboard for management. The system is designed to improve and streamline important reporting functions. It's all about Simple Safety Solutions
With multiple reporting options available on the system, Proactive replaces time consuming and inefficient paper based checks.
Complete cover, as standard.
Including incidents, hazards, and pre-session checks as standard. Proactive covers the main areas staff need to report on to maintain a safer activity environment.
Where all reports come in, giving organisations a real insight and overview of risk management.
Allows users to view and report for multiple groups – e.g. an age group coach who also works with the senior squad.
Have a form you want to digitalise, want a bespoke question set for your organisation, then simply ask and we'll give you a quick quote.
Notify staff quickly of reports needing critical action to improve response times and maintain a safe environment.
 With encrypted data storage and transfer, UK Based Servers, and ICO Registered
Add important resources and information to your company account for easy staff access
Simple, fast reporting for a wide variety of scenarios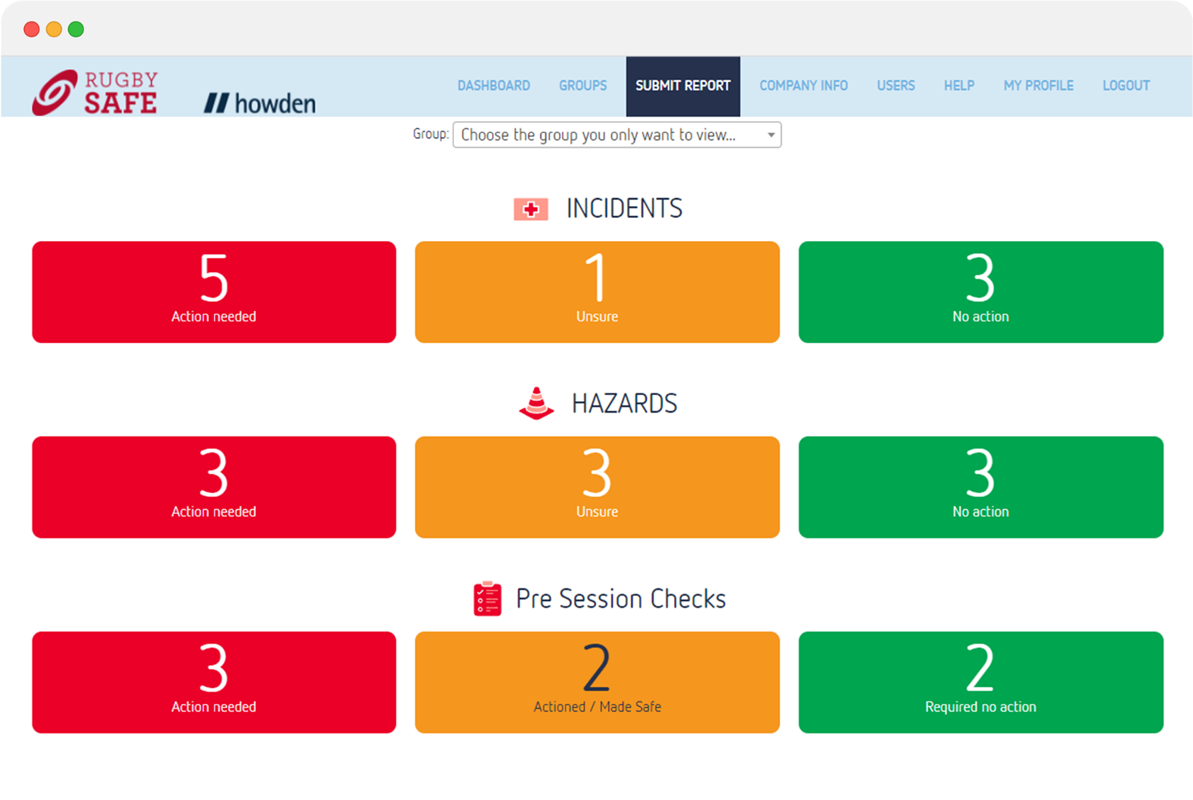 Every organisation whether big or small gets access to their very own Proactive dashboards. These simple dashboards show reports coming in and use a simple traffic light (Red, Amber, Green) method to filter reports by urgency of action required.
Proactive works closely with a variety of organisations in sport, education, childcare camps, and youth programmes, as well as insurance companies to help improve risk management and safety processes, making their daily operations and activities safer for all involved.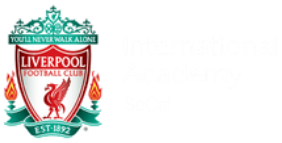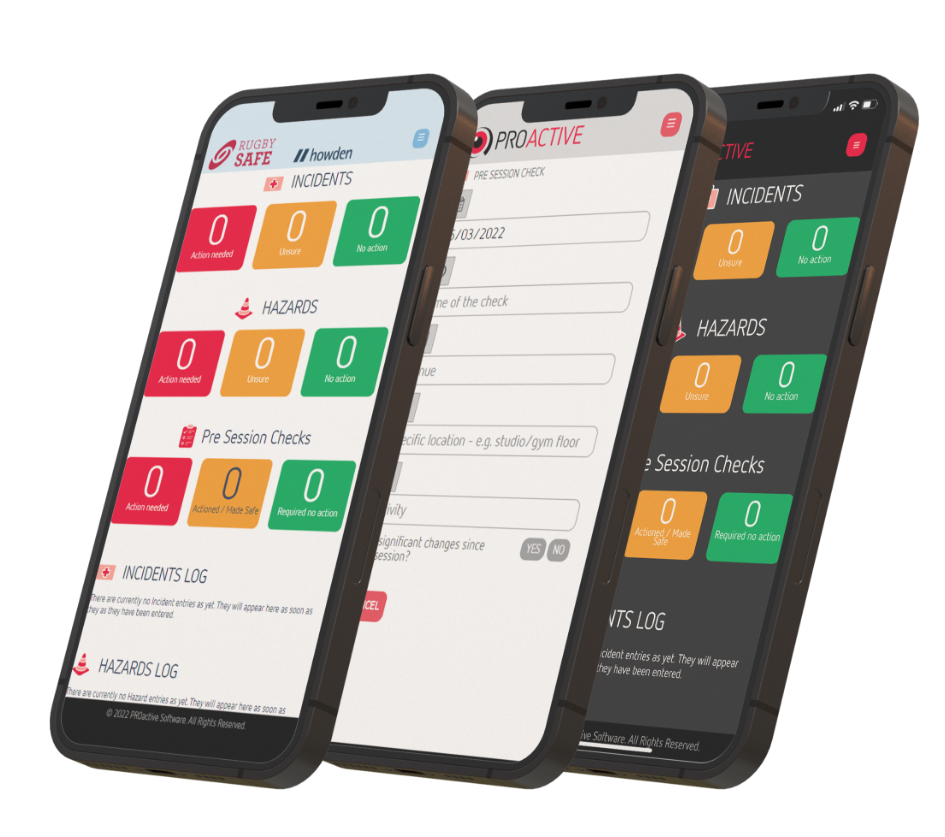 Customised portals to meet your business brand and content
We were impressed with Proactive's clear understanding of the sport and of the difficulties that clubs face in risk management. They truly understood the limitations and constraints that grass roots volunteers face, and the need for intuitive, clear tools to guide them.
Rugby Safe Player Welfare Manager
A range of pricing plans to suit every need.
Ideal for single teams / small clubs
Ranging from 10 – 50 users
Upload club documents and
resources
Branded app and dashboards
Links and uploads for enterprise
documents and resources
Enterprise Modules – design
your own bespoke reporting
modules
Single User, Team, Club and Enterprise Plans available.
Request a demo from our team