Complementing the new Concussion Protocols for Sport, supporting players and coaches on the return to play journey
The Concussion module on Proactive is designed to support NGB's, Clubs and Participants manage incidents of concussion and support them on their graduated return to play (GRTP).
Proactive is now in use by over 500 sports clubs and is a trusted incident reporting and risk management tool.
Provides the club and coaches with an easy to follow concussion dashboard. All players going through the concussion return to play journey can be monitored.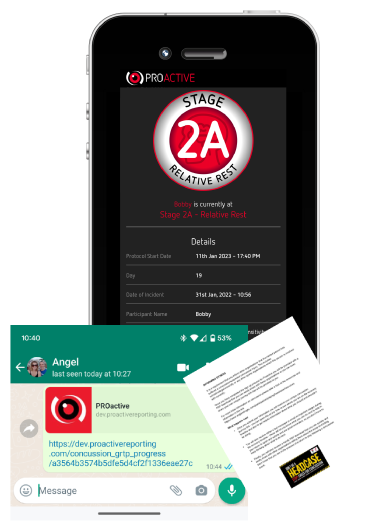 UNIQUE SHAREABLE JOURNEY LINK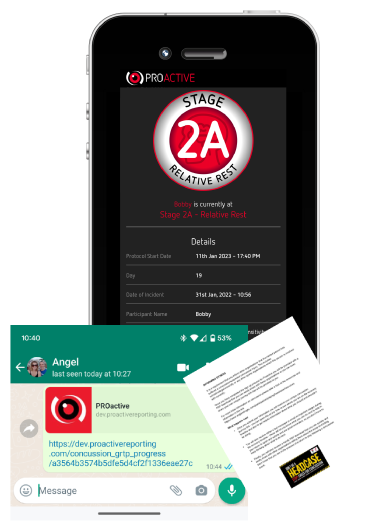 Allows players and parents to easily track their journey back to activity. Links to guidance and support. Automatically updates each day. Easily shared with other organisations e.g. schools, to ensure a coherent response to the injury.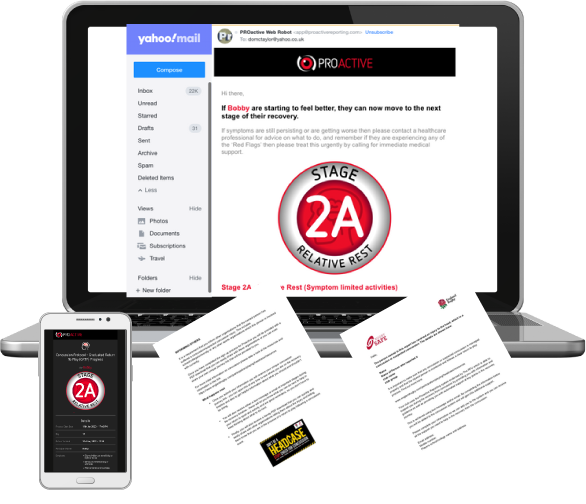 Email & text alerts give updates and advice on the return to play. Includes links to resources and websites for extra guidance.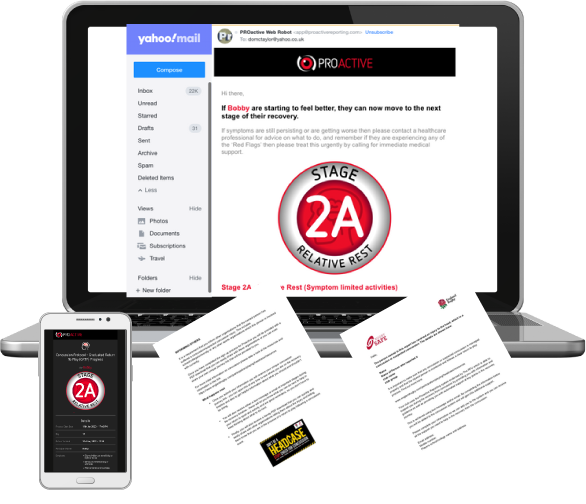 Here to support clubs, coaches, and participants
The Proactive concussion module can be brought as a stand alone return to play concussion tool or as part of the wider Proactive reporting system – see our pricing page for more details.
Our pricing is deliberately low as we understand grassroots sport and believe safety should not be a financial decision.
Providing clubs with a cost effective, valuable tool which will change the way they manage concussions. Providing a joined up approach to concussion return to play management for participants, coaches, clubs, and schools.
Concussion Protocol for Sport
Complementing the new DCMS
Concussion Protocol for Sport
In December 2021 DCMS published its response to the government select committee report on concussion in sport
Various recommendations including the creation of a generic concussion protocol that can be used by all sports were made
Following the recommendation a committee of experts has been developing the new protocol and it is due to be released in early 2023.
The Proactive concussion module will reflect the changes made/recommendations of DCMS and can be adapted within a matter of days for any sport.
Great news – The new concussion protocol will be available soon following the release of the new information from the Department for Culture Media & Sport (DCMS). To register your interest please email us at
proactive@we-activate.co.uk
or complete the form below:
Upgrade your existing Proactive account.
Upgrade your existing Proactive account and get access to unlimited concussion logging and monitoring
3 coach licences for use across your team for 12 months
Allows up to 3 staff responsible for your team to log and monitor concussions
Single dashboard showing all concussions in your team
Log & Monitor unlimited concussions
50 coach licences for use across your club for 12 months
Set up multiple teams allowing team by team concussion management
Get an overall dashboard showing all concussions at your club
Log & Monitor unlimited concussions
Assign coaches to multiple teams